After becoming a Noordi Brand Ambassador I have released this interview about me and about my experience with my Noordi Fjordi Stroller.
Thank you Noordi for choosing me.

1. A short story about yourself
My name is Alessia Binetti, I am a certified Hatha Yoga teacher and a proud mother of two little boys, one 5 year old and one 3 months old.
I have always loved writing and in 2015 I decided to create my own Mamma Guru blog; I chose this name because it is related to topics concerning Yoga understood as a philosophy of life and also because it is dedicated to the world of mothers.
I decided to start this job because it gave me the chance to work and also to be a fulltime mother.
Mamma Guru addresses to mothers and women who are Green and Zen just like me.
Mamma Guru is also a registered trademark of Japa Mala, which I create on request and in an absolutely personalized way, using authentic stones, wood and natural seeds.
2. What kind of emotions did you feel when you realized you were pregnant?
I always dreamed of becoming a mother and both times I discovered I was pregnant, I was so grateful and excited that I could almost touch the sky.
3. How did your husband and relatives react to these joyful news?
My husband was also very happy and excited when he discovered that he would become a father and literally cried with joy.
4. What was your pregnancy like? What would you recommend to other moms expecting, that would make their experience even more enjoyable?
My pregnancies were both at risk.
I have been in bed for months and have also been hospitalized for spontaneous abortion threats.
Yoga and meditation have helped me resist every step of the way and always made me be more positive and stronger, both for me and for the children I was carrying.
I advise all mothers who are expecting to meditate as much as they can and to learn the yoga breathing techniques, which will also help them during childbirth and above all help them fight anxiety, fear and stress.
I advise them to live in the Here and Now, enjoying every moment and becoming a team together with the child they are carrying within, infusing light, strength and serenity.
5. How do you feel now with your family, holding a little baby in your arms?
Even today, when I look at my children, I still can't believe that my dream of becoming a mother has come true.
I feel complete and immensely grateful!
There is no greater joy for me than having built a wonderful family.
6. What's Your Baby's Name? Why did You choose this name?
My children are called Francesco and Alessio.
My husband and I both loved the name Francesco so much.
I chose Francesco because it was the name of a child I tutored and mentored when I was an educator for underprivileged children 14 years ago.
I always carried in my heart the affection given to me by that child and so for that reason I thought of calling my first son Francesco; this name was also my grandfather's name whom I loved very much.
Alessio was unanimously chosen by my son Francesco, my husband and myself.
Francesco had a very important role in choosing the name of his little brother.
7. What kind of NOORDI stroller do you have? What is Your experience with this stroller?
Our stroller is the Fjordi NOORDI and we are really excited about it.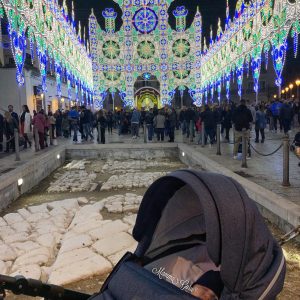 8. What are the advantages of the NOORDI stroller which are the most important for You?
Our Fjordi NOORDI is perfect for us!
In addition to being elegant and beautiful, the Fjordi NOORDI is comfortable, practical, quick and easy to handle.
Alessio also loves it because the inside of the crib is spacious, warm and comfortable and he usually sleeps blissfully in it for many

9. How do you spend your family leisure time with NOORDI stroller?
We always take long walks with our Fjordi NOORDI because it's comfortable both for us and especially for Alessio; we never go out without it.
This year we had a long and harsh winter and Fjordi NOORDI, which is designed for severe Scandinavian weather conditions, was really perfect, it protected our child from wind and rain; so we managed to take Alessio for a walk even on the coldest days.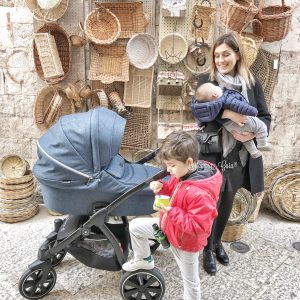 10. Do you plan to enjoy only the role of being a mother in the near future? Or maybe You will be doing other activities?
When 20 years ago people used to ask me what I wanted to be when I grew up, my answer was always " I want to be a Mother" and today that dream has come true!
I will therefore be happy to be able to continue my work as a blogger and as a Yoga teacher to be managed completely independently, while reconciling my important duties as a mother.